Book & Journal

Revised Edition Available 2020 ...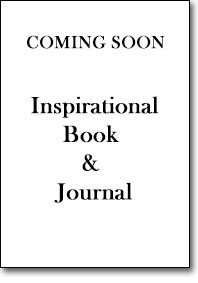 REVISED EDITION AVAILABLE SOON.
HEART RECONNECTION
SOUL REMEMBRANCE

INSPIRE CREATIVITY
EXPAND SELF AWARENESS
EXPRESS INNER WISDOM

A book of Spiritual Simplicity expressed through Acronyms, Poems, Affirmations and Journaling. With inspired writing on 66 subjects such as Angels, Birth, Death, Faith, Life, and Peace to name just a few. This book can help you expand your consciousness.
Through the written word Elizabeth takes you on a Mind Expanding, Heart Opening, Soul Embracing journey. You can come back to this book again and again. Each time helping you to further Embrace, Strengthen and Expand your own Spirituality and Intuition - thus Inner Peace and Self-Empowerment.
It is Elizabeth's hope that the reader receives as much inspiration from her book as she did in writing it. For Elizabeth inspiration is a feeling, a knowing, a creative energy force. And can take many forms. To receive this inspiration all we need be is open to it.
A great gift for Yourself, Loved one or Friend
Also check out Elizabeth's CD "Meditations For Manifesting" on the CD page ..
Menu

Book Testimonials

Inspiration and Meditations
Elizabeth, your book ''Heart Reconnection Soul Remembrance'' is an absolute inspiration. A light bulb moment on every page

Sandra – Merrimac, Qld.
Elizabeth, after reading your poem Ascending the Heart, I gained the most profound feeling of peace. Having lost several loved ones, very early in my life, including my Mother, I have always felt alone, and often lost, but I now realize that they are always with me because I remember them, so they will always exist. Thank you Elizabeth for giving me this sense of closeness that I never had with my lost loved ones, because they aren't lost, they are right here in my heart and in my mind.

Judy – Burleigh, Aust.